May 23, 2016
Welcome to the
Grateful Dogs of Juneau
Save the FE
ET
Sandy Beach - Broken Glass Clean-Up
There will be a broken glass clean up at Sandy Beach on Saturday, May 28, from 10 am till noon.
Everyone in the community is invited to take a leisurely walk on Sandy Beach and to pick up broken glass as you enjoy your walk and the beautiful scenery. Bring a baggie to carry the glass you find.
Broken glass is an ever present hazard on Juneauís most popular beach, Sandy Beach, but you can do your part in removing some of that glass.
Letís make Sandy Beach a safer place for two-legged and four-legged beach-goers this Summer.
This event is facilitated by the Grateful Dogs of Juneau.
---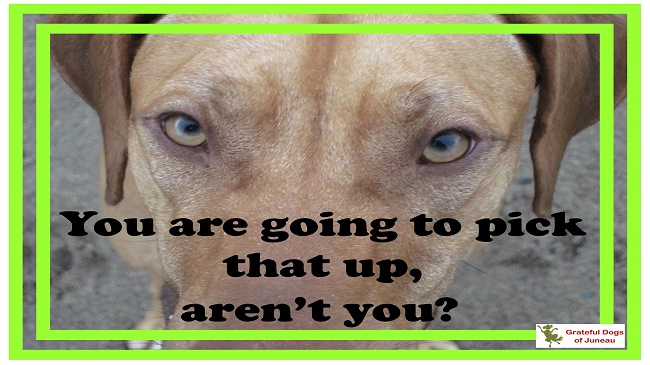 ---
Become a member of Grateful Dogs of Juneau.
Renew your Membership for 2016
---
---
KEEPING YOUR DOG SAFE in the dark
Keep you and your dog safe after dark: With long winter nights, the Grateful Dogs Of Juneau reminds dog owners to use reflective clothing and safety lights both on themselves and on their dogs, when walking or jogging with their dogs after dark. Dogs and pedestrians that are not visible to drivers are a hazard.

Dog owners should do all that they can to keep themselves and their dogs safe when walking or jogging after dark. Appropriate safety clothing and lights for you and your dog are readily available at several stores in the community.
---
Keeping Your Dog Happy and Healthy on a Hike
Courtesy of Dogster + Seresto
---
New Posters Available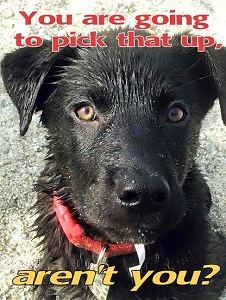 for download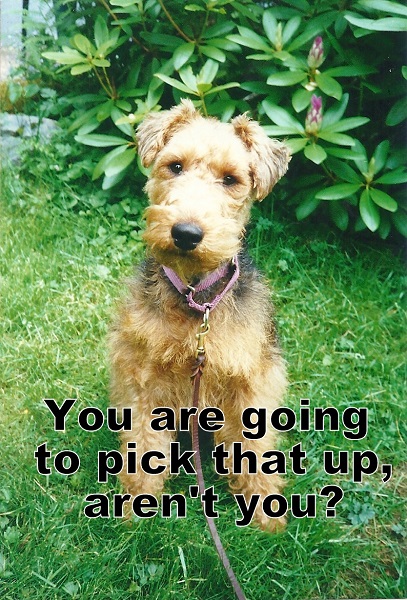 Click here to download and view additional
(8.5 x 11) posters.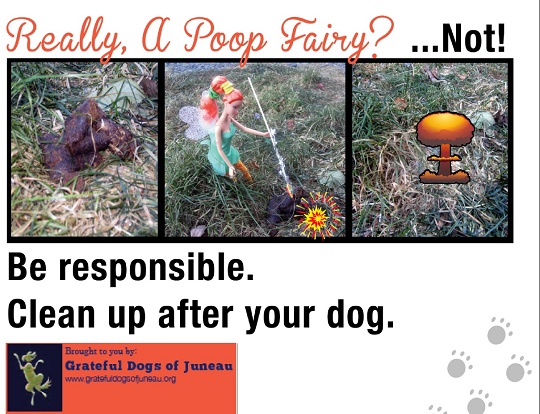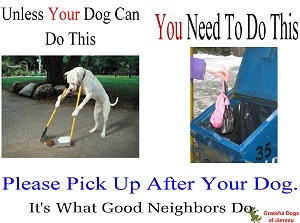 "Pick Up After Your Dog" Poster Click Here
---
NOTICE:
Access to the West Side of the Mendenhall Wetlands. The road to the golf course is not to be used by dog walkers. Whether the gate is open or not, do not use the trail that goes around the pond. The golf course road is private property and the CBJ has insisted that the owners of the golf course fence their property off. This mostly has to do with access for emergency vehicles should a plane crash happen, as well as the owner's liability for people on their property. People will have to park on the east side of that end of Industrial Blvd. (along the white fence that runs along Miller Const. gravel yard). The CBJ has posted "No Parking" signs on the west side of the road.
---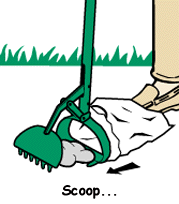 Clean up after your dog: The Grateful Dogs of Juneau reminds dog owners to pick up after their dogs. In recent years, dog owners have made great strides in promoting a dog friendly community by cleaning up after their dogs. If we continue to clean up after our dogs, we can make Juneau an even more attractive place to live and a more dog friendly community.
---
New PSA Available
Click here to listen.
---
Important Dates
March 15 -- Summer Regulations take effect for CBJ Parks & Recreation sports fields. See below.
April 15 -- Basin Road is open to motor vehicle traffic until November 1. This is a good area to walk your dog. Watch for cars and wildlife.
May 1 -- Rain Forest Trail and parts of Sandy Beach become "on-leash areas" thru September 30. Check signs in area to see if on-leash rules are in effect.
November 1 -- Trapping season begins in the Juneau area and continues till April 30. The trapping seasons for specific furbearer species varies within this time period. Check Alaska Department of Fish and Game regulations for detailed information.
November 1 -- Basin Road is closed to motor vehicle traffic until April 15. This is a good area to walk your dog. Some years the road ices over and becomes unsafe to walk for people and dogs.
---
** Click here for the Grateful Dogs of Juneau membership application for 2016
** Contact Grateful Dogs of Juneau at gd-info@gratefuldogsofjuneau.org