---
CBJ Dog Regulations
Summer CBJ dog regulations for sport fields and for parks start to take effect in March of each year.
The Summer regulations for sport fields take effect March 15.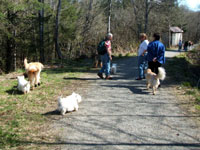 The Summer regulations for Sandy Beach and the Rain Forest Trail take effect May 1. The regulations establish specific area and seasonal requirements for on-leash, leash-optional, and no-dog areas. Signs at each location describe the regulations that are in effect in each area. The regulations for Sandy Beach are complicated because parts of the beach in front of the picnic shelters are on-leash until you reach the stream. However, you must pay attention to the posted signs because the message on the signs determines what regulations are in effect at that location.
Fall-Winter Dog Regulations -- begin to take effect during September.
Fall-Winter dog regulations for Juneau parks, recreation areas, and trails take effect September 30.
Sandy Beach From September 30 till May 1, the beach area in front of the picnic shelters at Sandy Beach is an on-leash or competent voice control area. The area around the picnic shelters and the surrounding playground are on-leash year round.

Rainforest Trail - From September 30 till May 1, the Rain Forest Trail is an on-leash or competent voice control trail.

Sports Fields - From October 16 - March 14, all fenced park sports fields are off leash areas for exercise and dog training purposes with the exception of all artificial fields. Fields are open during park hours Sunday through Saturday with the exception of school hours. Fields are closed to use during the school day. Signs are posted at each site with rules regarding that area's usage.
The Grateful Dogs Of Juneau reminds dog owners to read the signs that are posted at CBJ parks and sport fields for up-to-date information on the regulations that are in effect. Click here to view the regulations. If you have questions about the rules for dogs in your favorite CBJ park or recreation area, contact the CBJ Parks and Recreation Department.
Airport Dike Trail is a competent voice control trail. At its November 8, 2010 meeting, the CBJ Assembly adopted an ordinance that would allow dogs on the Airport Dike Trail to be under competent voice control. The ordinance was adopted unanimously by the CBJ Assembly and took effect on December 8, 2010. Dogs that do not promptly respond to voice commands or that are not under control must still be on leash when using the Airport Dike Trail. The Grateful Dogs have actively encouraged, promoted, and supported competent voice control for the Dike Trail for the last year.
CBJ Regulations regarding Dangerous and Potentially Dangerous Dogs -- Click here
---
Contact Grateful Dogs of Juneau thru gd-info@gratefuldogsofjuneau.org