Grassroots Action to Promote a Cleaner, Dog Friendly Community
Grassroots Activism on the Dog Poop Issue Runs Riot
in the Community for 4 Days In March.
Quick Action By Government Agencies Restores the Status Quo.
On Monday, March 4, 2013, a number of signs began to appear at popular dog walking locations throughout Juneau. Among the first locations to sport colorful signs prompting dog owners to pick up after their dog was Sandy Beach.
The signs were attributed to "Juneau Dogs for a Clean and Dog Friendly Community."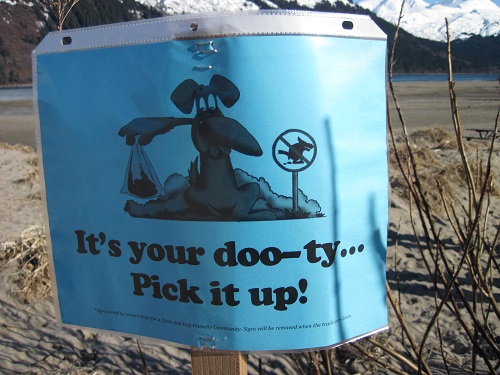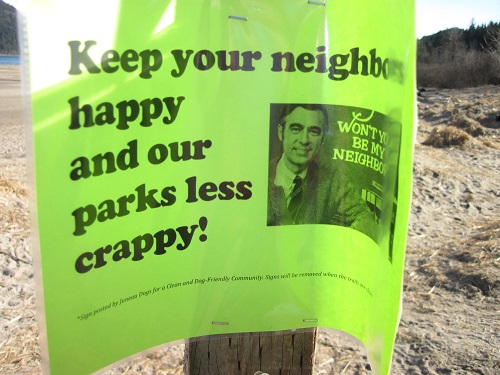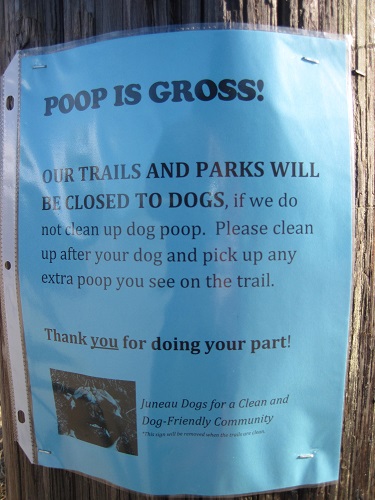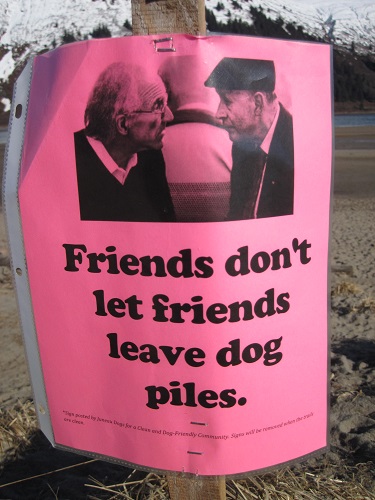 The signs also appeared at the Brotherhood Bridge Trail.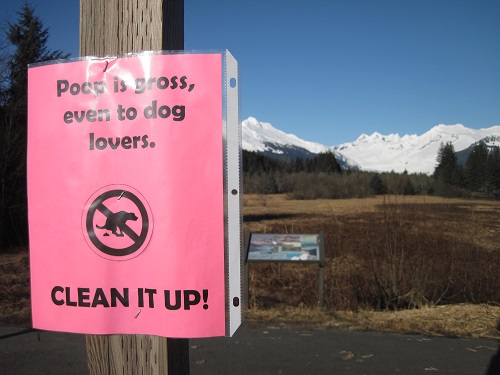 On Tuesday, March 5, the signs were seen at the Airport Dike Trail and at Cope Park (Evergreen Bowl).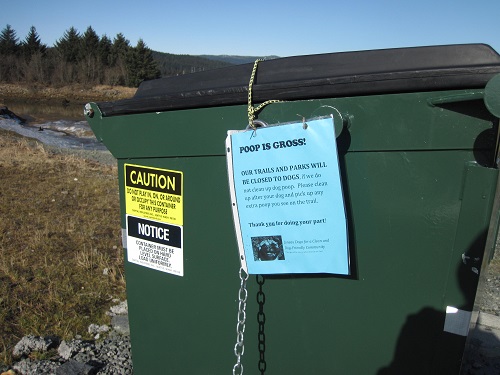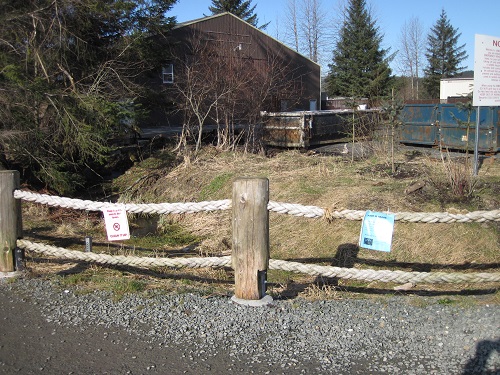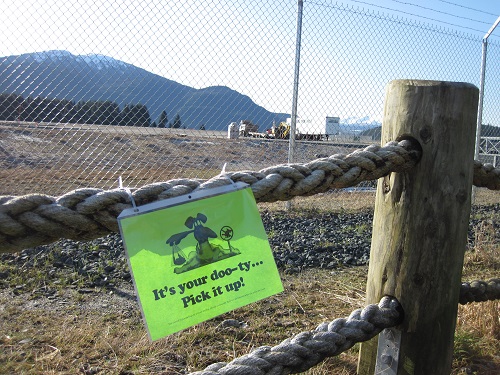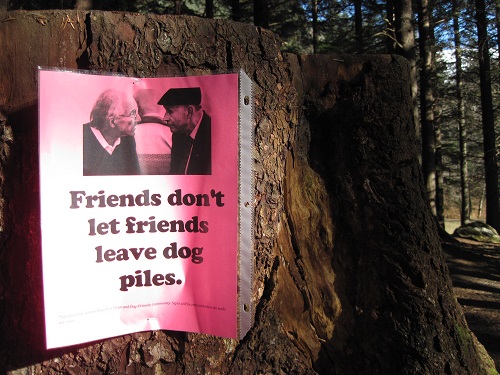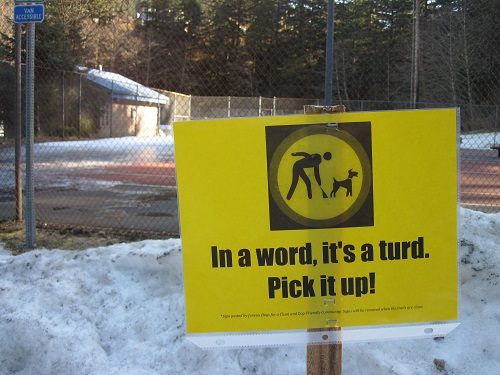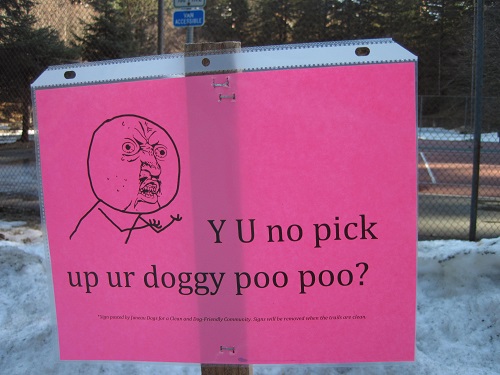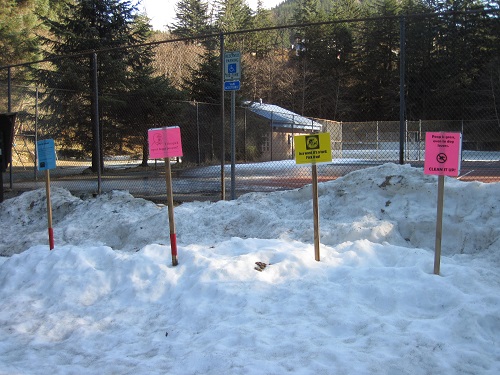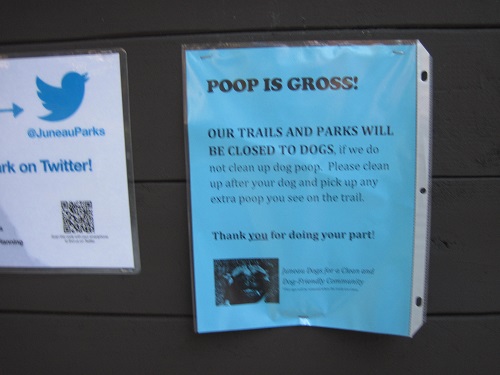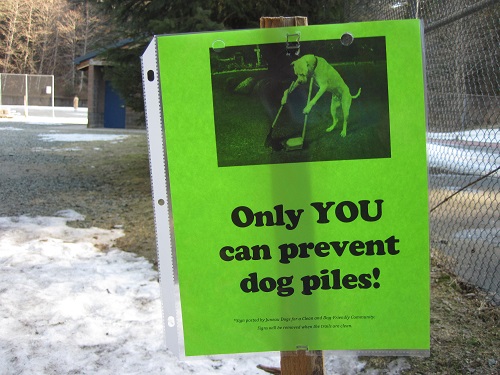 On Wednesday, March 6, the signs were observed on Basin Road and the trailhead for the Mt Roberts Trail. Signs were also observed in Capital School Park.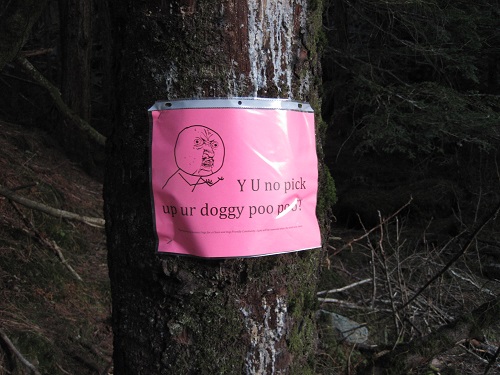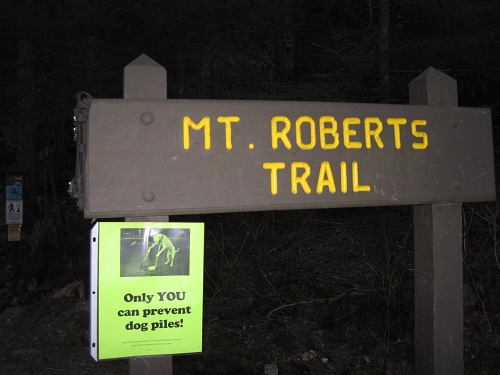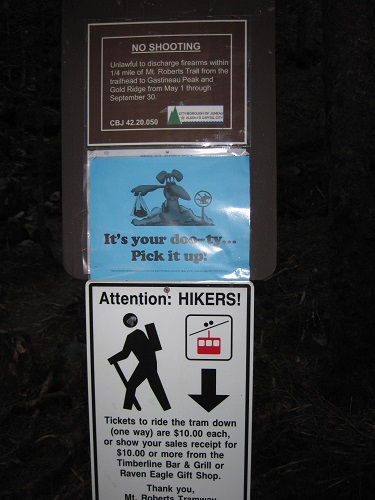 Status Quo Quickly Restored. By Thursday, March 7, most of the signs at CBJ park areas had been removed by Parks & Rec staff because the posters posed a safety hazard or were likely to create litter. Posters mounted on wooden stakes that were placed near bike paths or play areas were removed. Posters that were attached to fences using industrial staples were also removed, because the sharp edges of the fasteners protruded into play areas. Posters that were attached to trees or shrubs using zip-ties were also removed if they were being damaged by weather or likely to become litter. Also, there were complaints from the public about the language on some of the signs, so those that contained the offensive language were removed. According to Parks & Rec, quite a few of the posters in place because the effort to educate people about the need to clean up after their pets was appreciated.
.
The signs were also observed at Twin Lakes.
There were no signs present on the Dredge Lake Trails on Thursday afternoon, March 7. However, there were reports of the signs appearing in the Dredge Lake area by mid-week of the following week. The response by the US Forest Service to the signs in the Dredge Lake area was similar to that of the CBJ and equally fast.
---
Grateful Dogs had no role in the project. We have no idea who was behind the signs. Nonetheless, we would like to support the effort to educate dog owners. Thanks to Juneau Dogs for a Clean and Dog Friendly Community for your efforts.

If anyone does know who was behind the project, please convey our thanks to them and let them know that GDOJ would like to work with them.

Updated: March 14, 2013